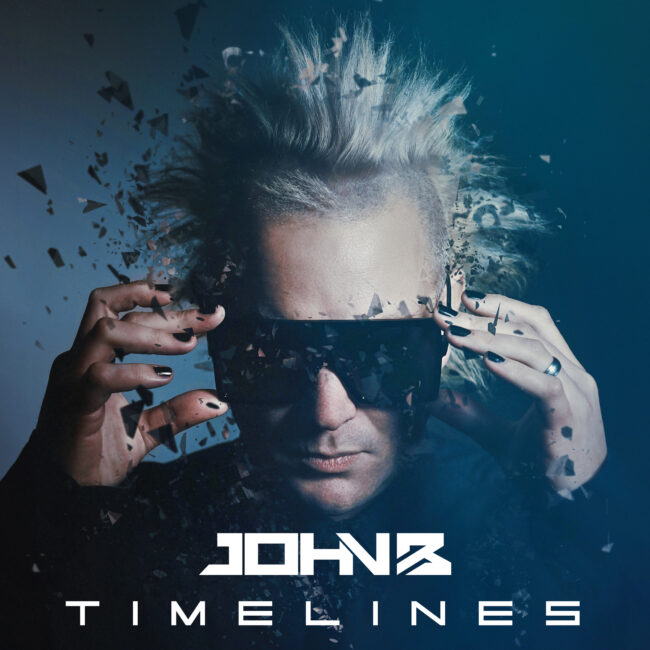 Timelines
JOHN B –TIMELINES (1995-2020) [RELEASE DATE: FEB 28 2020]
PART I: TIMELINES (1995-2020): The Best Of
PART II: TIMELINES (1995-2005): The Lost Tapes
PART III: The Lost Tapes Soundcloud Dump
"John B opens the vaults on a remarkable career in a typically over-the-top style… A truly unique retrospective." MIXMAG – Album of the Month Feb 2020. Described by Mixmag as "in a league of his own," it's undeniable that John B knows how to stand out from the crowd. With an eighties-influenced aesthetic of shocked silver hair, bright makeup and eyeliner and an attitude packed with the sheer exuberance of modern club culture, John B is a world apart from your overly edgy, run-of-the-mill, black t-shirt types.
This identity filters through into his music and you'll know a John B tune when you hear one: playful but serious, full of energy yet still more sophisticated than most. His ability to balance a wide array of sounds, styles and influences is perhaps his defining ability as a musician – an ability that's encapsulated on his forthcoming "TIMELINES" anthology album project.
'Red Sky', 'Starburst' and the banging 2019 remake of 'Pressure' are just a few of the many tracks that have been remastered & revitalised for TIMELINES, a two-part, retrospection on John B's greatest hits (along with a huge Soundcloud dump of an extra 75 previously unreleased tracks & demos). It's a milestone for John, a celebration of a decades-spanning career that's seen his name spread across charts and billboards around the world from San Francisco to Siberia.
As well as some of his best-known music, John is also reaching deep into the vaults to remaster and release a cache of his own never-before-heard gems from 1995 to the mid 2000s – undeniably one of the greatest periods in the genre's history. With these two sections, Timelines covers almost twenty years of John's creative history and it does so with all the style and wit that we've come to expect. Fun party tracks like 'Blandwagon Poos' & 'Ay Caramba!' sit comfortably alongside the deadly serious 'Secrets' & 'LAVA', and the ambitious trance & bass/synthwave hybrids 'Robot Lover' & 'Approaching Zero'.
Alongside this release John will be touring some exclusive extended Timelines 'History' sets, digging deep into the Headz Blue Note-era archives and reaching for some serious classics. Timelines themed editions of the John B Podcast, rescued live mixes from the archives, original tour vlogs from the early 2000s, and maybe even a live stream from the newly finished John B DIY-mission Loft set-up (if you've been watching John's Instagram stories you'll know what we mean) are all coming as part of the project.
It's part of a retrospective tip currently characterising John and Beta Recordings but also the scene more broadly, demonstrated well by his contribution to Spearhead's celebration of their 100th release, as well as the upcoming remixes of 'Up All Night' as part of the 25 Years of Metalheadz celebrations. With several other releases in the works, including a remix for coldwave legends 'the KVB', a 2 track collaboration with Digital on long-time haunt Metalheadz, new singles on Beta, newly built studio and an exciting new Festival AV project John B's music schedule is almost as packed as his DJ calendar.
Having recently hit Czech Republic, Poland, Germany, the USA & Canada, with Liquicity & Outlook on the horizon this year John B is bringing his focused yet eclectic musical selections to an ever-increasing global D&B audience.
(Words by Ben Hunter)